In an act of historical preservation, Seaford Chamber of Commerce has recovered and donated a long-lost President's Chain to the local museum. This significant artifact (presumed lost) is a testament to the Chamber's commitment to preserving the town's rich heritage.
The President's Chain, a symbol of authority and leadership within the Seaford Chamber of Commerce, holds a special place in the town's history. It has adorned past Chamber Presidents as they steered the organisation through various economic challenges and achievements since the Chamber was founded in 1955. However, it was believed lost and a replacement chain was created and has been in use by subsequent Presidents over the last 15 years or so.
During a recent local house clearance, the old President's Chain was rediscovered and handed back to the Town Council, who contacted the Chamber. Recognising the importance of this historical artifact they decided to take action to ensure its preservation for future generations.
John Suggitt, a valued member of the Chamber of Commerce and owner of Peter Trevor Jewellers in Church Street, volunteered to restore the old chain to its former glory. With craftsmanship and dedication, Mr Suggitt meticulously revitalised the chain, bringing back its lustre and elegance. The chain was then beautifully mounted in a presentation case.
The official handover ceremony took place at the Seaford Museum, where Carol Trimbee, (current President of Seaford Chamber of Commerce), presented the restored artefact to Jane Keel, Chair of Seaford Museum. The event was a poignant moment that celebrated Seaford's rich history and the Chamber's dedication to preserving it.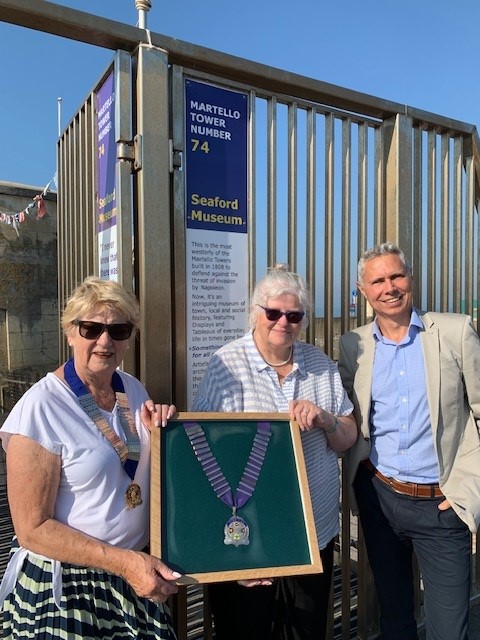 The handover event also featured John Suggitt from Peter Trevor Jewellers, who played a crucial role in restoring the President's Chain to its former glory. Seaford Chamber of Commerce is proud to have reclaimed a piece of its history and is delighted to contribute to the preservation of Seaford's heritage through this generous donation to the local museum.