Seaford Chamber were thrilled to see that Christmas Magic was able to go ahead this year. The event was held on Saturday 4th December from 11am – 5pm in Seaford's Crouch Gardens and various sites throughout the town.
The judges took to the streets on Friday 3rd December to pick the 'Best Dressed Window'. The streets were filled with festive decorations bringing Christmas Magic back with a bang! The amount of effort put in by everyone made the decision a tough one.
This year's winner was Foam and Fabrics, displaying 'The Nativity'. The Award was presented on Saturday 4th December.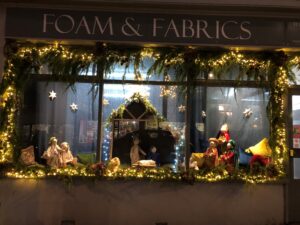 The window display was not only an eye-catching large nativity display, but everything was handmade by them.
Joint runners up were newcomers 'INLE' and 'Ambers Florist'.
Seaford Chamber would like to thank the whole of Seaford Town for taking part and making Christmas Magic so special. We look forward to seeing what you bring in 2022!